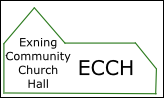 Exning Community Church Hall

© Copyright Exning Community Church Hall Committee of PCC of Exning with Landwade
Information and Bookings: exningchurchhall@gmail.com Phone: 07516-438133

The Hall is used regularly by a number of activities. Click on the item to find out more..
All these groups would welcome new members Please feel free to get in touch with the organiser.
Please note that events may be cancelled due to the Coronavirus Pandemic and this table may be inaccurate. We advise checking with the organiser and ECCH cannot be held responsible for wasted time or travel
Please note the Hall has re-opened fully from July 19, 2021 in line with government restrictions.
If you previously partook in, or are interested in individual activities, please contact the organiser shown below. Please note this table may be updated once other activities have indicated their plans.