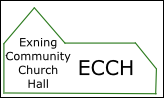 Exning Community Church Hall

© Copyright Exning Community Church Hall Committee of PCC of Exning with Landwade
Information and Bookings: exningchurchhall@gmail.com Phone: 07516-438133

Murder Mystery 2017 – "The Great British Joke Off"
On Saturday January 28, 2017 we held the Murder Mystery "The Great British Joke Off "
It took place in a comedy club where the competition is fierce to perform in front of royalty.
We obviously don't want the say too much in case you may see it at another location…..but here are some pictures of the evening……….
The contestants each performed their stand up routine………
In front of two judges, the MC……….
,,,,and us as an audience.
During the performances, one of the contestants was killed…and so……. 'The Inspector called!"
…...and interviewed several of those present…highlighting their relationships with the deceased…and the motives they might have for hilling them
After these interviews we had to decide who the killer was, how they did it and why……..
after which the denoumant…………..
But we can't tell you "Who Did It?" ….it might spoil it…