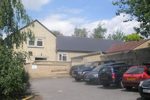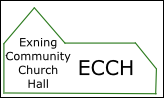 Exning Community Church Hall
We hope you have already enjoyed events at Exning Community Church Hall or maybe you haven't been along yet.
You may wish to be kept informed of other events in the future. These may be:
If you would like to enquire about using the hall or to receive information about future events by email please let us know by sending an email to info@exningcommunitychurchhall.org. (Our privacy policy is shown below)
Data Protection and Privacy
The Exning Community Church Hall Committee considers all personal data and contact information to be confidential. We will not provide or sell personal data to third parties for any reason.
Any data we hold will be processed in accordance with the terms of the Data Protection Act 1998. This means, amongst other things, data will be processed lawfully and fairly. It will also be kept securely to prevent unauthorised access by other people.
While we do take reasonable steps to keep information about you secure when in our possession, we cannot guarantee the security of any information you disclose on-line. You accept the inherent security implications of providing information over the Internet and will not hold us responsible for any breach of security or disclosure of your information unless we have been negligent. For your security communications may be recorded.
If you no longer wish to receive information from us, you can write to us by e-mail, quoting your full name and email and we will be happy to remove you from our database.
Please note we will be updating this and contacting people who currently receive information about events at ECCH to comply with GDPR (General Data Protection Regulation)