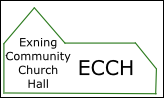 Exning Community Church Hall

© Copyright Exning Community Church Hall Committee of PCC of Exning with Landwade
Information and Bookings: exningchurchhall@gmail.com Phone: 07516-438133

Parents of under 5s in Newmarket and the surrounding areas have reason to celebrate as brand new dance class Boogie Babes has shimmied into town!
Boogie Babes is a brilliantly fun, Netmums award winning dance class featuring plenty of pom pom shaking, bubble bursting, sausage sizzling, teddy tumbling action.
Suitable for those who've just learned to walk, right the way up to school age, the mixture of dancing, singalong songs and exciting games improves coordination, encourages interaction with other children, boosts confidence and provides fitness and fun!
Run in Newmarket by former childminder and cruise ship performer Luan Latimer, there are weekday sessions in Exning Community Church Hall on Tuesday's at 11am
Luan understands that parenting is unpredictable so Boogie Babes is a pay as you go class, with no termly fees. 'As a parent, it's frustrating to pay upfront and then miss sessions because your children are ill or have other appointments. With Boogie Babes you can just drop in, with no need to book.'
Sessions cost £4 with sibling discounts available and you can see a timetable and more information at www.boogiebabes.biz/newmarket or by calling Luan on 07769 883506
You can call Luan on the number above or if you have any questions about the business, please get in touch.